Speciaal voor het aankomende theater seizoen hebben wij deze speciale beyerdynamic TG 1000 actie.
Dit is hét moment om je zenderpark uit te breiden.
Naast deze 3 opties van de actie zijn er ook diverse andere mogelijkheden met het TG 1000 systeem.

Wilt u een demo van TG 1000, neem dan contact met ons op. Of kom naar onze POP-UP Outlet & Demo's waar er dagelijks een demonstratie van de TG 1000 is. Houd onze website en social media in de gaten voor meer informatie hierover.
Deze promotie is geldig van 01 september t/m 31 oktober 2020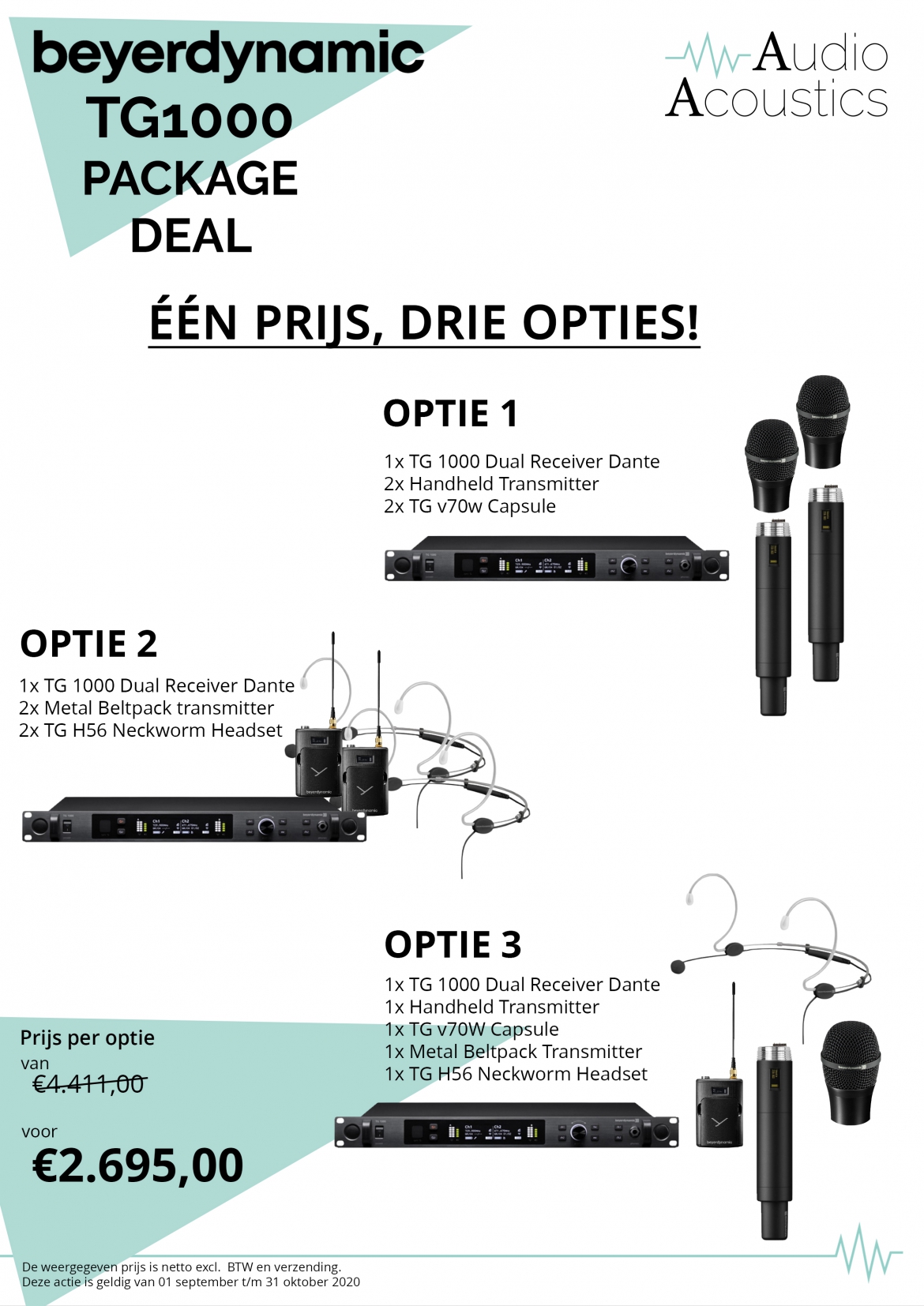 Benieuwd naar de TG 1000? bekijk onderstaande video's en ontdek alle mogelijkheden met dit veelzijdige product.
TG 1000 - Digital wireless system for professionals
- Digital 24-bit wireless system
- 319 MHz Switching Bandwidth
- Dante interface
- Made in Germany
SOUND ENGINEER
ANTONY KING
On tour with Depeche Mode, Marilyn Manson, Nine Inch Nails, The Cure
"Unlike in the studio, where we have the optimum conditions for audio work, achieving a good live sound always involves successfully over- coming the challenges posed by the respective venue. And when it comes to dealing with such unavoidable circumstances, it's great to be able to rely on technology that is designed to overcome any obstacle."
Voor meer informatie over de TG 1000 of deze actie, neem contact op met ons verkoopteam.
De TG 1000 is te bewonderen op ons POP-UP Event eind september. Meer informatie hierover volgt...